The Course of True Love Never Did Run Smooth
The Libra Full Moon, which represents the polar opposite of the Sun's Aries energy, reminds us all that relationships are not only important, but that to sustain them we must remain open to compromise. It highlights also the fact that our partnerships may sometimes require a lot of hard work…
The Aries Sun likes to have its way–it's an energy that desires movement because archetypally it encompasses action and motivation. However, the Libra Moon's opposition to the proactive Aries Sun emphasizes that one cannot disregard or forget the other's needs and perspective.
 Libra is great at looking at both sides of a situation and finding balance, whereas Aries acts on instinct and impulse. So, this Libra Full Moon cautions the Aries Sun that to act alone is not always the wisest course.
   Leading up to this Libra Full Moon was March 28's union of harmony-seeking Venus with changemaker Uranus, both in Aries. You may have experienced anything ranging from
a pleasant surprise &/or enjoyable break from your daily routine to something a bit more shocking, depending on where this meet up occurred in your chart.
Because Mars, the ruler of Aries, is now in serious Capricorn, it's likely that whatever surprise hit you, it was not too unbelievably crazy and maybe even had a stabilizing effect…
The evening before the upcoming Libra Full Moon, Venus moved into her own sign of Taurus. She thus becomes the ruler, or dispositor, of the Libra Moon, which may temper our jitters a bit and presage a more even-keeled response to whatever's been set in motion, both on the global stage and our more personal one…
Duty To Others Or Duty To Self?
When the Aries Sun squared Saturn in Capricorn on March 29, two days before the March 31 Libra Full Moon, it may have filled us with doubt. Hard on the heels of March 28's Venus/Uranus meetup and as the Moon now waxes full—this can be serious and potentially dispiriting energy.
As always, frictional contacts between the Sun & Saturn can frustrate us at best & depress us at worst. It's an energy that can make us feel lonely & isolated. However, the message following the recent Venus/Uranus combo is that we may all be forced to face some kind of unexpected reality now …
According to renowned astrologer Robert Hand, who wrote the book Planets In
Transit, this Sun/Saturn combination can result in conflict between our sense of duty to others and our obligation to self.
 The two questions you must resolve now are: how much self-gratification do you owe yourself, and what duties and responsibilities do you owe to others?" Hand writes. "Today will be categorized by conflict between these two poles, duty & self-gratification."
At this Libra Full Moon, which squares the waxing Mars/Saturn conjunction, we are all called to search our hearts for where any unexpressed simmering frustrations may lie based on this kind of conflict.
The Will To Succeed
Mars is approaching an exact conjunction to Saturn on April 2, and as these merging energies continue to grow in strength at this Libra Full Moon, they represent the potential for a powerful commitment.
On a personal level, look to where any deviation in your routine recently might have larger implications—either positive or negative—for your current relationships. The recent Venus/Uranus conjunction may well have triggered something into motion, based on your own past actions, that is not over yet & which could lead you closer to a stronger commitment…
Such a commitment, however, might require a certain measure of compromise…
The key to navigating Mars/Saturn energy is always hard, concentrated work. Such work may be physical, mental, emotional, or spiritual, but as long as we remember to apply concentrated (Saturn) energy (Mars) to the task at hand, we can triumph in the end.
Basic archetypal Mars energy always wants action, while Saturn's major inclination is to build foundations. A Mars/Saturn conjunction says "apply yourself to something you desire and make it manifest!"
What's the logical outcome when these two energies play nice together?
   A feeling of accomplishment!
What do you want to achieve vis-à-vis your partnerships at this Libra Full Moon? You might ask yourself now: How can I get what I want without trampling on the rights of another? And: How can I find the happy medium in relationship without sacrificing my own right to the pursuit of happiness?
It's possible at this Libra Full Moon to solidify our partnerships in one way or another. And, remember that Libra energy represents not only significant other relationships, but those with whom we have any kind of partnership, including with parents, siblings, children, lovers, friends, colleagues, etc.
All For One Or One For All?
 This Libra Full Moon calls us to weigh the balance between going it alone (the Aries Sun) or making it together (the Libra Moon.)
While deciding your path forward consider whether frustrations inherent in any partnership make it worth engaging in or not, and whether–if compromise is called for–you can get more flies with honey than with vinegar.
After all, might not a measured tempered response to whatever's going on in our individual lives prove conducive to a stronger, longer lasting commitment in the end?
Remember, it's not always what happens to us, but rather how we choose to
handle it that matters most. As we co-create our futures, we might ask ourselves now whether we can let go—full moons are always about release, after all—of any frustrations or hardships around our relationships and forge a steadier future, while also being true to ourselves…
It's a given that relationships are never without their road blocks or frustrations! This Libra Full Moon is not about avoiding such frustrations, but rather initiating conversations—both internal and external–that may reduce impediments to their smooth functioning going forward.
The energies in play right now call us all to work through the areas where we might not see eye to eye with any particular partner currently in our life. The fact that Libra, Aries, & Capricorn are cardinal signs—or signs that like to initiate action–bodes well for pushing through obstacles to work together energetically.
The down side, however, is always the possibility that we might act too quickly out of frustration.
Of course, relationships are our mirrors, so when we look at them as opportunities to learn more about ourselves we may gain a particular advantage as we move individually toward greater consciousness in this lifetime.
We might ask ourselves the following questions at this Libra Full Moon:
Where am I frustrated because I commit to another/others more than to myself?
How can I find greater balance between going it alone & getting my own needs met?
Where might I need to mature in my relationships—not only my partnership with others, but with myself?
Full Moons are always about release, and this one asks us to ponder the dilemma of whether our commitment to another or others helps or hinders us in our karmic growth. Letting go of anything that does not serve the cause of finding balance in our lives is not only productive, but will likely bring future peace & harmony…
Don't Forget–Mercury's Still Retrograde!
All of this occurs against the backdrop of Mercury's current retrograde in the fire sign Aries.
It's a good idea to note that Mercury's retrograde cycle will travel through all three fire signs in 2018. The messenger god's journey through the fire element began late last year in December and continues throughout 2018.
This means it's time to review how incorporating more creative play into our lives can spark our inspiration. Erin Sullivan, in Retrograde Planets, advises we all ask ourselves this question both now and as Mercury retrogrades through the other fire signs this year: How can my inspiration create my future?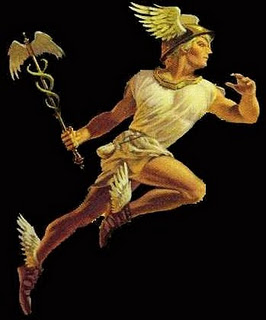 The current Mercury retrograde cycle through Aries until 

April 15

 forms part of the shorter-term backdrop for this Libra New Moon. The advice is still review, review, review!–particularly in the realm of your partnerships!
   Check in with yourself and try to ascertain now whether or not you've been incorporating that creative spark into those partnerships you want not only to survive, but to thrive…as well as whether you've compromised too much or not enough…
How can you recommit, or simply commit, to listening to another's point of view right now? Likewise, can you speak up and make your own needs known, particularly if you haven't in the past? Harboring resentment without trying to communicate where you feel slighted does not a happy long-term relationship make…
The Nodes Know…
Finally, and of note, the two luminaries make beneficial aspects to the transiting Nodes, indicators of karmic destiny.
The Libra Moon sextile the Leo North Node—the indicator of future karmic
destiny–tells us that however we choose to handle our relationships now, we've got the opportunity to shine our own light within our partnerships, rather than eclipsing it behind someone else.
And the Aries Sun's sextile to the Aquarius South Node–indicator of past karmic energy–likewise provides us all the opportunity to jettison any past karmic baggage, particularly around trauma, that's held us back from either making or attracting a successful commitment in our lives…
Figuring out how to give voice to any seemingly minor dissatisfaction within your relationships that you've sat on to the point where they're now ready to explode is key to this Libra Full Moon's energy.
Remember, without taking a step back and applying perspective, abused often become abusers, and persecuted oppressors. Seek to avoid this and call on this coming lunation's powerful energy to release all conflicts that do not serve your highest and best purpose here on Earth…
Namaste…