The Mother & Child Reunion
The Sun in protective, sensitive, caring, nurturing, vulnerable, watery & emotional Cancer represents home, family, roots, tradition, mother, security, habit, memory, & the past. In a nutshell, it's childhood.
Ruled by the Moon, Cancer is your inner child, your emotions, what I like to call your "soul." It doesn't reason, it FEELS. And in so doing, it tells us what we need to feel truly secure. But Cancer energy often hides her true feelings.        Deemed too painfully fragile or confusingly emotional to reveal, Cancer subjugates her emotional needs to those of others. 
So, while the Cancer archetype shines through the figure of a loving, sensitive, & nurturing mother, her darker archetypal side lies sometimes in coddling & over-protecting her children and, more importantly, herself.
Think of it this way: who wants to expose their most sensitive vulnerable parts to the world? Not Cancer! No! Archetypal Cancer energy is far more suited to deflect attention from its own emotional well-being and to distract people from worrying about her by focusing on taking care others.
Such behavior is often driven by FEAR–fear of exposure of one's most vulnerable sensitive parts, one's most fragile emotions–which often sends the Cancer archetype diving back into her shell for safety & the comforting reassurance that no harm will befall her there.
   Compassion, understanding, mothering, & security fall into the category of "emotional needs," at least for most of us.     This Cancer New Moon opposite Pluto calls us to dig down to the bottom of our emotional depths to contemplate whether we're getting what we need emotionally or not.
Do past memories and habits influence what we think we need to feel emotionally secure? Or does staying tied to the emotional past make us feel better? Do we mistakenly assuming that old habits & behaviors (relationship dynamics, for example) are better (read: less scary) than developing new habits and patterns?
That which is familiar is comfortable, but not necessarily the healthiest, as many of us know.
When the Cancer Moon meets up with the Cancer Sun and both luminaries oppose Pluto in Capricorn July 12 we will experience a showdown between our need to expose our true emotional needs and our desire to keep them hidden.
The question now becomes: what's truly beneficial for your soul on an emotional level? How can you become your own best, nurturing, mother?
Heart & Soul Of The Matter
Pluto's about transformation. He says: "kill or be killed." Any death in our external world—be it literal or circumstantial (say, like the death of a relationship or job, for example)–is representative of an ending.
But death need not be literal, and in fact most often is not. Rather, often death is symbolic, metaphorical, figurative. Literal or symbolic, it's of utmost importance to understand that death paves the way for new life, and that when something dies it creates space for something new to be born.
It's simply that often we don't recognize such symbols, synchronicities, or circumstances for what they really represent, and so we grieve endlessly, pine, whine, beg and cry, praying to go back to the future again though we know it's impossible…
This Cancer New Moon takes on greater import because it's also a solar
eclipse. Solar eclipses are like jump starts to a car battery. Often, they can give us a jolt. We may be shocked, surprised, taken aback, nonplussed, etc., but whether we deem such surprises "good" or "bad" remains to be seen.
An eclipse's energy may take effect in our lives up to three weeks prior to the actual event, so think back. Certainly, this eclipse's energy was in play at the June 27/28 Capricorn Full Moon, which aligned Saturn & the Moon in Capricorn and pitted them both against the sensitive, vulnerable, Cancer Sun.
At that time, the Capricorn Full Moon asked us to release unnecessary judgments, both self-judgments and those which condemn others. We could not ask for a clearer archetypal metaphor representing the split between our inner judgmental authority "father" figure and our internal unconditionally nurturing "mother."
Now, however, as the two luminaries unite in Cancer & face-off with Pluto in Capricorn, we've got a repeat of similar energies—at least up to a point since it's a Cancer/Capricorn kinda opposition still. It's the two luminaries' opposition to Pluto that provides us the opportunity to kill off old, outworn, obsolete internalized shadow parental figures of yesterday, yesteryear, or yester-life. Pluto, the king of "endings," symbolizes quite clearly that it's our own fear of becoming conscious of our shadows that needs to die now…
Eclipse energy can influence us for between six months to two years, in general, or longer depending on the duration of the actual eclipse. This is a partial solar eclipse, and so likely to be of shorter duration than past or future total eclipses of the Sun.
No, I Would Not Give You False Hope
Take heart, as the intensity ratchets up as we approach the July 12 Cancer New Moon solar eclipse @ 20-degrees 41-minutes @7:48 p.m. PT, 10:48 p.m. ET.
Jupiter, the planet of higher consciousness, stationed direct in Scorpio–the sign ruled by Pluto–July 10 @13 degrees, providing some context for our intensity and for that of those around us. Jupiter direct (expansion of consciousness) in Scorpio (shadow side, secrets, truth, transformation, etc.) provides the opportunity for us to more consciously confront our shadow side–both personal & collective.
And who's the best protagonist to represent one's shadow side? Right you are, it's Pluto! That's because Pluto's evolutionary purpose lies with allowing us to transform from being scaredy-cats—you know, afraid of our own shadows!—into strong empowered individuals.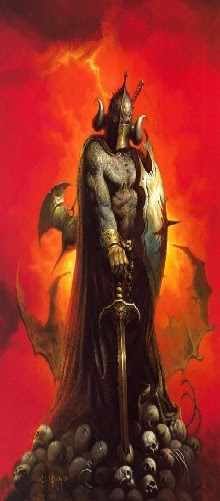 In essence, Jupiter's station direct in Scorpio increases its expansive affect upon this Cancer New Moon solar eclipse, allowing us to better recognize the not so nice parts of ourselves and to realize they're not so scary after all…
   Meanwhile, Venus entered virtuous Virgo on July 9, proffering us additional background information leading up to the July 12 Cancer New Moon solar eclipse. Venus in Virgo offers us a way to better digest, cope with, & integrate our shadow through the incorporation of daily rituals and holistic (read: metaphysical & energetic) practices.
Don't Let The Shadow Win! 
   As with all new Moons, this is an extremely fertile time. This Cancer New Moon solar eclipse invites us to plant seeds of unconditional self-love & self-nurturing so that we may stand strong and work in tandem with the evolutionary forces of Pluto rather than against them.
   How do we do this?
Whenever Pluto's concerned, it's always better to go with the flow than against it! And any death—be it literal or metaphorical–clears the way for new birth.  
We can start by bringing our unconscious thoughts & behavior patterns into consciousness. While we've got so much retrograde activity in the heavens currently, why not review (or look back at & acknowledge) unhealthy habits or behaviors, negative thinking, & harsh self-judgments in the cold hard light of day.
The more we need to learn empowerment, the greater our challenges will seem leading up to this Cancer New Moon solar eclipse. It's now we may come face to face with that which we fear the most: our unconsciously driven behaviors, so often reflected back to us in the behavior of others.
Yes, that's what I said: if we're not conscious of our shadow side, we project that energy out and it's mirrored back to us through others, particularly as this Cancer New Moon solar eclipse opposes the king of shadows, Pluto…
Only then can we determine whether to continue to repress these negative thought patterns & behaviors, or to plant seeds to begin integrating them into our consciousness so that we may become whole. At a certain point in each of our lives, we're called to come out of hiding and practice being our own best mother.
Healthy mothers don't make negative judgments about their children. They don't treat them badly, cruelly, starve them of sustenance in the form of either food or love. And in that way, they nurture us into happy, healthy, emotionally mature adults who've learned how to nurture ourselves.
Try A Little Tenderness…
We may all plant seeds at this Cancer New Moon solar eclipse that can blossom into true internal emotional security & the knowledge that it's ok to tend to your own emotional needs first.
When that happens, you'll withdraw the projection onto others of your own needs, stop attracting needy partners, and come clean about what it takes you make you feel happy, healthy, and emotionally secure FIRST before you go out to nurture others…
As always, easier said than done, but Venus–now in virtuous, service & health-oriented Virgo–says we must practice. We all know Rome wasn't built in a day, so take it slow, as every step forward represents progress toward greater consciousness…
Pluto as an archetypal energy likes to tear down or destroy that which is no longer necessary for us as we make our way along our evolutionary path. The more we resist moving forward, the harder we may fall, at least in our own minds and hearts. So, our mission revolves around getting to the heart of the matter in ways that don't devastate us.
Now's the time to discern what we need to feel truly nurtured through non-judgmental self-compassion. We might ask ourselves the following questions now:
·     If I were a plant, how often would I need to be watered (or fed,
or held, or listened to, or simply to cry without being judged a wuss or a softie or a pansy, or attacked?)
 ·   What makes me feel secure at my core, makes my heart & soul sing–how can I do (or get) more of that?
·    What can I do to nurture myself without having to rely on others to do it for me? (Be especially mindful of the smaller things you may incorporate into your life on a daily or other regular basis such as meditation, yoga/exercise, or the exchange of one habit for another—such as, say, smoking for juicing, or tv watching for walking!)
When we tend to our own hearts, we need not waste extraneous energy on others and thereby deplete our own emotional reserves. So, asking who or what drains you and/or makes you unhappy vs. who or what lights up your heart because they nurture you?Therein lies the secret of what makes people & all living things grow healthy, tall, and strong!
Here's Paul Simon's Mother & Child Reunion, which seems perfect for this Cancer New Moon Solar Eclipse energy!

Paul Simon
"No I would not give you false hope
On this strange and mournful day
But the mother and child reunion
Is only a motion away
Oh, little darling of mine
I can't for the life of me
Remember a sadder day
I know they say let it be
But it just don't work out that way
And the course of a lifetime runs
Over and over again
No I would not give you false hope
On this strange and mournful day
But the mother and child reunion
Is only a motion away
Oh, little darling of mine
I just can't believe it's so
Though it seems strange to say
I never been laid so low
In such a mysterious way
And the course of a lifetime runs
Over and over again…"
~ Paul Simon