We're Not Gonna Take It (Anymore)
This Aries Full Moon, occurring at 2-degrees Aries/Libra–@ 7:52 p.m. PT & 10:52 p.m. ET–sets up a confrontation between clearly male & female archetypal energies, and between our rational ego-dominated beliefs and perceptions & those that hail from a more intuitive lunar landscape.
Every month a different full Moon sets up an archetypal confrontation between two polar opposites, and between the rational, objective ego (read: Sun) & intuitive, subjective unconscious (read: Moon) realms of our psyches.
This serves the purpose of providing us the opportunity to make conscious our unconsciously-driven (or subconscious) emotions, habits, and deeply-rooted needs for security. The need to release our ego's attachment to the empirical factual world only, & its reluctance to acknowledge the importance of intangible feelings & intuitions, is what's highlighted at every full Moon lunation.
Why is this so?
Because when we can release our ego's stubborn reliance on the empirical world by entertaining the notion that emotions are not necessarily antithetical to objective rational reasoning, we may begin then to integrate any given set of opposite archetypal energies.
In general, the Libra Sun is an archetypal energy that doesn't feel whole without a partner, and identifies itself as relationship-oriented. Libras are kind, artistic, considerate—they are after all Venus-ruled!
Archetypally, Libra energy applies its principles of fairness, balance, justice, & harmony to relationships, which is why this archetype is so very good at mediation & striking compromises.
The down side of Libra energy, however, lies with the fact that so good is one at seeing, hearing, & understanding both sides of an argument, the result can be confusion about how one really feels.   
   This can virtually paralyze those who carry Libra energy to any great degree, as they become hampered by their indecisiveness & truly unsure about how they feel about any particular subject.
   Such indecisiveness earns Libra the reputation of "fence sitter."
Further, so skilled is Libra at brokering a compromise, the person forging the compromise doesn't always realize whether or not the end result of that negotiation will prove long lasting. In other words, will the truce negotiated truly satisfy them forever?
The bottom line here is that Libra prefers to avoid confrontation at all costs and would rather give in or compromise than fight.
This sets up a situation that results often in passive-aggressive behavior by this Libran archetypal energy. In other words, compromising too much for the sake of a harmonious relationship may make us angrier in the long run.
And so any given compromise may come back to haunt us—and often does–sometimes in the not so distant future…
The question ultimately becomes: Where does the Libra archetype draw the line? When does she find that compromise is no longer the answer because she feels too strongly about an issue to sacrifice her dignity, pride—perhaps even her entire identity—as she's too greatly threatened to compromise away her rights?
In short, when does Libra decide she has no choice but to fight?
We've Got The Right To Choose, No Way We'll Lose It!
The Moon in Mars-ruled Aries is a fighter. This archetypal energy can run the gamut from the violent warrior–in the fight purely to satisfy his blood lust nature–to the higher-minded understanding that one can (& should) fight for those who are too weak to defend & protect themselves.
The Moon signifies our emotions, our inner child, & our intuition. It's the repository of our past & dwells in the realm memories, habits, & the less conscious behaviors we exhibit throughout our lives. Thus, the Moon depicts female anima energy that uses the intuitive process to alert us to what we need to feel truly secure.
The Moon in Aries seeks to move and express itself freely, be that mentally, physically, emotionally, &/or spiritually.
Aries is an instinctual, naturally proactive energy which manifests often in
athletes, soldiers, adventurers, and entrepreneurs, or those who forge ahead independently in any given industry or area of life.
When that freedom is thwarted, regardless of the reason why, this lunar energy can become frustrated or angry.
Aries Moon energy wants action & wants it now! This is soothing to the Aries archetype: witness anyone you know with Aries energy (or a fire Moon for that matter) who needs to run, exercise, scream & yell, or take some kind of outward action when frustrated or angry.
How we manifest our frustration &/or anger in the concrete physical world of our current incarnation is up to each of us. Mars, known to be impatient, impetuous, fast-moving (as in acting before thinking), motivated, & assertive, can also be aggressive, angry, & potentially violent when feeling thwarted. This is the  sign of male sexuality.
At this Aries Full Moon, this more subjective emotional Aries Moon—prone to movement & freedom of expression as part of its need for security–pits herself against a cooler, rationally objective Sun, which believes compromise is the only way to end a dispute. 
We'll Fight The Powers That Be, Just Don't Pick Our Destiny
One can almost feel the palpably rising tension & anger in the air as we wax toward this Aries Full Moon. And that tension becomes ever more heightened when we realize this lunation forms a cardinal T-square to Saturn.
And Saturn's in Capricorn, meaning he's part of the establishment. He believes that rules, boundaries, & barriers form the safest and most structurally sound foundation in life. When crossed, he can be rigidly inflexible, punitive, and adamant in his belief that carrying on old traditions is the best–& only–way forward.
In short, the Saturnine archetype—including as the ruler of Capricorn—often translates into fear of change…
What becomes extremely clear at this Aries Full Moon is that the battle between our need to be free to express ourselves vs. our need for peace born of compromise can fill us with insecurity about in which direction we may "safely" push the envelope.
Do we side with the Aries Moon, which meets up with Hygeia (the female asteroid signifying health) & wounded healer Chiron, the dwarf planet representing karmic wounds, including those from both past lives and this lifetime?
Or do we place our bets on the Libra Sun, Mercury, & Ceres, & simply hope that another mediated agreement will keep everything copacetic—for now? 
The implications of an either/or scenario become more fraught when we realize that the presence of Ceres, known in Greek mythology as Demeter, can gives rise to a "hell hath no fury like a woman scorned" kind of energy…
Demeter is the mother of Persephone, who's infamously kidnapped, raped, & taken to the underworld by Pluto/Hades, the ruler of this territory, to become its eventual queen.
However, prior to Persephone's terms of release (6 months in Hades, 6 months above ground with her mother), Ceres' grief and wrath at her daughter's sudden shocking disappearance continues unabated as she begs the gods to release her daughter.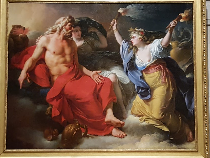 When they refuse—mostly by throwing up their hands and saying "what can we do?"– Ceres storms the earth, unable to contain her rage & grief at what she deems to be an unnaturally forced separation of mother & daughter.    
   Thus, as she allies with the Libra Sun & Mercury now, opposite to the Aries Moon/Hygeia/Chiron, she seems to be saying "I'm mad as hell & not particularly interested in the establishment's inability to act right now!"
Crimes Against Nature…
It's this deeply-rooted karmic anger and grief that the Aries Full Moon asks us now to act upon in order to ultimately release it. She asks us as well to let go of our rational objective animus-oriented reliance on the past as protocol for the future, implying that action is necessary for positive growth & movement forward, and reminding us that progress is not made by standing still…
We realize that revolutionary Uranus—square the transiting karmic Nodes of the collective at this Aries Full Moon—demands change as well. Retrograde, but still in Taurus, Uranus calls us to find new, innovative, & outside-the-box solutions to old dilemmas, particularly as they relate to any old, outdated, or outworn value systems.
Mars on the Aquarius South Node square Uranus says much the same thing, and calls to us to release that which keeps us stuck in a past that refuses to accept change as a natural law of physics.
In recognizing the undeniable winds of karmic change blowing now, we may ask ourselves:
 Do we want to go forward or remain forever stuck in our old ways?
How can we affect change if we don't even try?
What are our revelations at this time about how we can intuit outside-the-box revolutionary solutions to old problems?
We must remember that stasis is unacceptable, as change is part of the law of natural cycles. Likewise, these cyclical attributes of nature demand to be respected. Anything less will be considered a denigration of anima-related holistic, healing, time-honored intuition, and considered a crime against nature…
Finally, it pays to remember that "hope" was the last thing to fly out of Pandora's box of evils once opened & sent out among humankind.
We may see some salvation out of this seeming impasse through the positive flowing aspects of the Aries Moon & Libra Sun to the Aquarius South Node/Mars & Leo North Node now.
Any actions taken (read: release) as a result of this lunation can't fail to move us in the right karmic direction—both personally & collectively.
Let's just try to remember that killing the messenger—ultimately—won't do any good for our future prospects of living in peace & harmony. If we can release our karmic wounds so that healing may begin we'll be able to move into a more positive, less combative, more harmonious future…
…one that doesn't require so much compromise that the same issues simply continue to arise again and again and again…
It seems most appropriate at this Aries Full Moon to post both the lyrics & video
of Helen Reddy singing at the Million Women March in Los Angeles in early 2017:

Helen Reddy
"I am woman, hear me roar
In numbers too big to ignore
And I know too much to go back and pretend

'Cause I've heard it all before
And I've been down there on the floor
No one's ever going to keep me down again
Whoa, yes, I am wise
But it's wisdom born of pain
Yes, I've paid the price
But look how much I gained
If I have to I can do anything
I am strong (strong)
I am invincible (invincible)
I am woman
You can bend but never break me
'Cause it only serves to make me
More determined to achieve my final goal
And I'll come back even stronger
Not a novice any longer
'Cause you've deepened the conviction in my soul
Whoa, yes, I am wise
But it's wisdom born of pain
Yes, I've paid the price
But look how much I gained
If I have to I can do anything
I am strong (strong)
I am invincible (invincible)
I am woman
I am woman, watch me grow
See me standing toe-to-toe
As I spread my loving arms across the land
But I'm still an embryo
With a long, long way to go
Until I make my brother understand
Whoa, yes, I am wise
But it's wisdom born of pain
Yes, I've paid the price
But look how much I gained
If I have to I can face anything
I am strong (strong)
I am invincible (invincible)
I am woman
Oh, I am woman
I am invincible
I am strong
I am woman
I am invincible
I am strong
I am woman…"
~ Helen Reddy, Ray Burton