Shoot For (Not At) The Moon
   This Aries New Moon may have a shock or two in store for us–of the "change or be changed!" kind–when the two luminaries in this proactive fire sign collide with Uranus, the symbol of unexpected events, also in Aries.
   There's an awful lot of cardinal energy at this Aries New Moon, what with not
only the Moon, Sun, Uranus, & Mercury in Aries, but Saturn, Mars, & Pluto in Capricorn, too.
   Cardinal energy is initiative and Aries energy impatient.
   The Moon will meet the Sun at 27 degrees & 2 minutes of Aries @6:57 pm PT
& 9:57 ET on April 15 & go on to conjoin with Uranus about four hours later. To say this energy holds the potential to be explosive would be an understatement!
   This Aries New Moon brings the two luminaries & Uranus together into the energy force field of the proactive & action-oriented warrior, athlete, or otherwise motivated individual. It's meet up with Uranus indicates we may be impatient because on some level—conscious or unconscious–we know that we are ripe for some kind of change.
   At March 31's Libra Full Moon I suggested we all think about the following:
How can we find greater balance between going it alone & getting our own needs met?
   Whatever answers you came up with at the time are part of what will hit home for you at this Aries New Moon. Whatever decisions you procrastinated making–or perhaps made too hastily–may come back to you now through some sort of change, particularly in the realm of partnerships.
   Whenever Uranus is involved, we astrologers also know that the longer we've spent resisting change, the more sudden and surprising that change is likely to be. Some the questions you might want to ask yourself now include:
 Where have I been feeling frustrated, depressed, or dissatisfied with my life?
How has this made me feel: angry, frightened, impatient, sad, or in some other way unhappy?
 How do I process fear around the thought of change, and actual changitself? Do I resist it, welcome it, or something in between?


Over The Moon…
   So, remember I mentioned that Saturn, Mars, & Pluto are in Capricorn at this Aries New Moon? Well, not only that, but during the hours leading up to the Aries New Moon the Moon will square Saturn, then Mars, and then Pluto.
   These past few days may have seemed up and down for some of us, and turbulence the name of the game. For those who pay attention to the national & international scene, U.S. President Trump last week said he wanted to pull U.S. troops out of Syria soon.
   He then announced on Wednesday that he'd rain down missiles on Syria in retaliation for the gassing of its own citizens earlier this week. On Thursday he said he might OR he might not. Friday evening he launched the threatened missile strike, joined by French & British allies.
  What's THIS got to do with your life?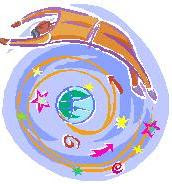 As I've noted before, it's important for those of us attempting to grow in consciousness not to separate the outer world from the inner, but rather to integrate these two energies so that our inner self is in greater attunement with the world around us. If we create our own reality, then we must first define what that "reality" is, right?
   So, we can use outer events—even those that may not happen TO us directly, yet still affect us in one way or another—to better understand how the collective's energy has manifested externally.
   In this case, as we're approaching the exact joining of the Aries Sun to the planet Uranus on April 18–and it's as this energy grows in strength that we'll be experiencing the Aries New Moon on the 15th–we can tell what's going on internally by recognizing how these energies manifest externally.
   We can see how the past week or so has been filled with ups and downs, twists & turns, one step forward one step back type energy. And those who are metaphysically-minded also know that "as above, so below, as within so without, as the universe, so the soul…"
   This Aries new Moon is a force to be reckoned with because it's as if once the train has started down the track, it's hard to stop it. Its forward motion is exacerbated by its pending meet up with Uranus because the combination of Mars (ruler of this Aries New Moon) & Uranus is like a speeding train (or missile) with no brake…
Evolution Vs. Revolution
   Pluto in Capricorn has been about the long-term evolutionary trajectory of changing the way we do "business as usual." Saturn in this sign of ambition & success tells us "slow & steady wins the race," while Mars in Capricorn is like the general leading the army with deliberation, & planned & well thought out strategies designed to "win."
   While Mars continues to wax into an exact meet up with Pluto in Capricorn onApril 26, it pays to bear in mind that–although Capricorn energy is cautious,
slow, & steady—Mars/Pluto energy is extremely powerful, and not to be underestimated in its potential for explosiveness…   So, while this Aries New Moon challenges us to find new and innovative ways to allow change to happen–but through a measure of controlled action—it pays for us to be aware that Mars will increasingly push his call for action onto evolutionary-minded Pluto!
   So, the message becomes both dichotomousand clear: change is coming, but how we decide to handle that change is up to each of us individually. If the spark that ignites change propels an unstoppable juggernaut into action, we might want to be sure it's heading in the right evolutionary direction.
   Therefore, how we all handle any resistance to change through clinging to old ways: mindsets, beliefs, loyalties, security (including to the material world) is key at this Aries New Moon.
   If we're blindsided now, all the more reason to let go; but only to the point where you can hang on loosely! Steering will become important as you go, so keep this mind: sudden actions, be they fortuitous or grievous, can still be handled, and handled well. The key is not to panic or to lose one's head altogether…
Material Re-E-Value-Ation
   Also at this Aries New Moon, Venus in Taurus opposes Jupiter retrograde in Scorpio. This tells us that our values are up for E-VALUATION, and as we pursue our evolutionary course, hopefully consciously, we may also contemplate where or how our values may be out of sync with our true soul's needs.
   Huh?
   This means we can all ask ourselves the question now: Is what we think wewant really what our soul truly needs?
   This is always the case with frictional Venus/Jupiter aspects. Jupiter expands,
 Venus wants what makes her feel good. Both are well-advised to stop and ask whether it's quantity that will bring true happiness, or quality… 
   Venus trines Pluto now, too, and from Taurus to Capricorn can be a grounding influence. Just as the slowly building Capricorn Mars/Pluto energy will eventually counterbalance the quickness of Uranus at this Aries Full Moon & beyond, so may this trine temper it as well.
   Remember, however, that Mars/Pluto is about evolutionary change while the more fleeting Venus/Jupiter energy is about our true values. And Venus, of course, is also about relationships…
   As the Aries New Moon takes up where the March 31 Libra Full Moon left off, it also pays for us to ask whether we find more success in going it alone or together. And, either way, what is our evolutionary end-goal?
Mercury Direct–Wiser Through The Ages!
   Mercury stations direct early morning April 15, about 16 hours before the Aries New Moon exacts, and this coming week communication should slowly begin to return to normal.
Wait, watch, & listen for it—your phone will ring, your email will ping, your texts will chime, and letters appear in your mailbox…it's almost like all will return to normal.
   As you begin to wind your way back into the flow of all things communicative, remember this: you've just spent 21 days during which your left brain has been suspended, and your right brain reigned supreme.
   This is primarily why so many astrologers caution against signing contracts, buying high ticket items, etc.—for fear that our normally logical, empirically-oriented brains will miss the details, the small print, the bottom line.
   And often this is true, but let's remember also that this has been a period during which our psyches have brought up from our subconscious into consciousness important messages from our soul's higher self. Likewise, objectively learned information was transferred down into the unconscious to become embedded there as true wisdom.
   And it's this wisdom that will be carried with your soul into future lifetimes, just as the wisdom from prior lifetimes was embedded in your psyche to make you as wise as you are today! (Don't snicker—regardless of any mistakes you feel you've made since birth in this incarnation, your soul has to have learned a thing or two from past life karma!)
Saturn Retrogrades & Chiron Into Aries April 17
   This coming week will see Saturn station retrograde, Chiron move into Aries– both on April 17–and on April the Sun moves into harmonizing Taurus.
   The keyword for Taurus archetypal energy is "serenity," and hopefully this is what we we'll all strive for during the next month.
   Saturn's retrograde period—which lasts until September 6—is a one during which if anyone or anything leaves our life it means they were not instrumental to our future growth…in consciousness…
   Any departure now—of a person, a job, a material possession—means you have no use for them or it in the future, and the astrological advice is to let it go…often this is one of the hardest lesson to learn…
   Yes, it's true that Saturn can bring tears, sadness, isolation, lonliness, &
depression, but please, please, pleaseremember that his mission is ultimately a positive one: to help us all understand that we can make it on our own!
   This is to say we don't need anyone or anything—contrary to what our feelings may tell us—to survive. And, as time passes, not only does a departure create space for a new arrival, but being able to stand on our own means we get to choose who and what we want in our lives rather than simply having to accept what we get!
   How glorious to know that if the world were to disappear right in front of our very eyes, we've got what it takes to survive because we are our own best friend, nurturer, and authority!
   Saturn always says "the buck stops here," and his purpose is to mature us ot the point where we can sustain any setbacks and not only survive, but thrive, because we always know we have ourselves to depend on and trust.
   And that's a good thing…
   Chiron's another story, as he moves from the watery Piscean domain he's inhabited for the past eight years into fiery independent proactive Aries energy on April 17 until June 19, 2026. (He will retrograde back into Pisces twice during this period, but more on that anon…)
   Chiron's move into Aries tells us all the time is ripe to begin (or continue) to heal wounds around any inability to express our personal will, be it on a mental, physical, emotional, or spiritual level.
   So plant new seeds now at this Aries New Moon that state your intentions: if you've been too dependent on others for your own happiness, use this time to nurture & grow self-confidence & self-love.
   If you've been too independent, & in being this way denied your own need for nurturing, take this Aries New Moon opportunity to institute into your life some self-care and perhaps explore where you might unburden yourself through the help of another or others.
   Let's face it, most of us did not come here to be alone. But neither did most of us come here to remain co-dependent our whole lives. Use the enegies of this potentially explosive change-oriented Aries New Moon to recognize in what area of life change is necessary, roll with it, but then seize the tiller & navigate your way toward your desired evolutionary future!
Here's a song that I think perfectly fits this Aries New Moon energy:
Bob Dylan's revolutionary ode, covered by Tracy Chapman
Tracy Chapman
"Come gather 'round people
Wherever you roam
And admit that the waters
Around you have grown
And accept it that soon
You'll be drenched to the bone
If your time to you
Is worth savin'
Then you better start swimmin'
Or you'll sink like a stone
For the times they are a-changin'
Come writers and critics
Who prophesize with your pen
And keep your eyes wide
The chance won't come again

And don't speak too soon
For the wheel's still in spin
And there's no tellin' who
That it's namin'
For the loser now
Will be later to win
For the times they are a-changin'
Come senators, congressmen
Please heed the call
Don't stand in the doorway
Don't block up the hall
For he that gets hurt
Will be who has stalled
The battle outside ragin'
Will soon shake your windows
And rattle your walls
For the times they are a-changin'
Come mothers and fathers
Throughout the land
And don't criticize
What you can't understand
Your sons and your daughters
Are beyond your command
Your old road is rapidly agin'
Please get out of the new one
If you can't lend your hand
For the times they are a-changin'
The line it is drawn
The curse it is cast
The slow one now
Will later be fast
As the present now
Will later be past
The order is rapidly fadin'
And the first one now
Will later be last
For the times they are a-changin'…" 
~ Bob Dylan